Jul 22, 2016
Supporting the increase of diabetes testing in veterinary medicine
- New release of blood glucose meter dedicated to dogs and cats -
ARKRAY, Inc. shall release a dedicated canine and feline blood glucose meter thinka BS-7110 overseas from early August 2016, under the dedicated animal brand thinka. The meter can conduct fast measurement of glucose concentration from a micro amount of sample and shall play a useful role in the diagnosis and management of treatment for diabetes in pets, which has been increasing.
thinka BS-7110, which will be sold by ARKRAY, Inc. (hereafter 'ARKRAY'), is a blood glucose meter dedicated for use on dogs and cats. In addition to dedicated canine and feline calibration curves*1, the meter is loaded with a hematocrit correction function allowing for highly accurate measurement. The product has been prepared taking ease of use into consideration, with palm-sized portability enabling glucose measurement anywhere and button operation for the user to easily switch the animal type. Furthermore, the risk of infection is reduced by employing a disposal lever.
In recent years there has been an increase in attachment towards pets and they are continuing to be adored as members of the family. On the other hand, starting with their diet, the lifestyle of pets has been becoming similar to that of humans and as a result, there is an increasing trend for lifestyle-related diseases among dogs and cats, such as diabetes and cancer. Blood glucose is a main testing item in diabetes diagnosis and by grasping blood glucose levels on a daily basis the item can play a role in the discovery of hyper/hypoglycemia and prevention of diabetic complications.
ARKRAY shall continue to develop products that support the frontlines of veterinary medicine and contribute to extending the healthy life of pets.
*1 An equation for calculating the measurement value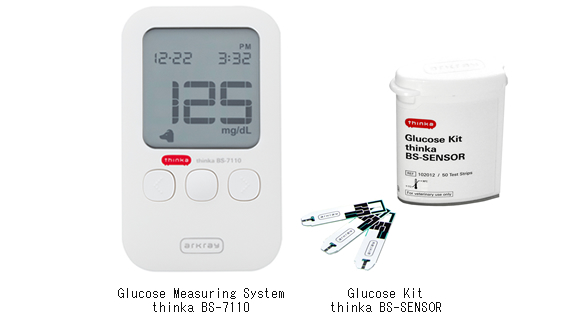 Features of the product
◯ High accuracy measurement
• Specific measurement values for veterinary medicine
Loaded with dedicated canine and feline calibration curves. Also, in order to calculate accurate measurement values, this is the first dedicated canine and feline blood glucose meter that features a hematocrit correction function enabling highly accurate measurement.
• Temperature correction
Automatically corrects the influence to measurement result from environment temperature.
◯ Consideration toward ease of use

◯ Easy measurement

Outline for thinka BS-7110
Name

Glucose Measuring System thinka BS-7110

Release date

Early August 2016

Specifications

Meas. sample
Whole blood
Target animal type
Dog and cat
Meas. item
Glucose
Meas. principle
Amperometric enzyme electrode method
Required sample volume
0.3 µL
Measuring range
10 - 600 mg/dL
Memory capacity
500 test results
External output
USB cable (Not included)
Measurement environment
Temp: 8 to 40℃, humidity: 20 ~ 80 % (no condensation)
Dimensions
50(W) × 84(D) × 17.6(H) mm
Weight
Approximately 47 g
Power supply
3V lithium battery (CR2032) × 1
Battery life
Approx. over 2,000 measurements
(* This number may vary depending on the usage.)
Test strip
thinka BS-SENSOR

Distribution territory

Worldwide (excluding Japan)
This product will be sold by ARKRAY Global Business, Inc.
ARKRAY Global Business, Inc. manages overseas distribution for ARKRAY products.